Discover more from Fragmentary
The occasional thoughts of Nick Harkaway. Look, it's not like you can say you weren't warned... (This image by the amazing Nadav Kander)
Over 1,000 subscribers
Mrs H said "will you come with me to Elton John?" And I said: "Yes."
I'm only somewhat a fan of Elton John. I know the songs and some of them are great, but - well, I'm grew up on Johnny Cash, Bob Marley and Simon & Garfunkel. Then I graduated to Slim Gaillard and Eartha Kitt before a brief excursion into Bauhaus which really never worked for me. These days I listen to anything, without particular categories, so that my playlist has Mulatu Astatke back to back with Ariana Grande and Carlos di Sarli rubbing shoulders with Lizzo. That said, he's had some amazing songs over the years and his musical history is deeper and more interesting than I ever realised before I went to the show, because it's just not a world I know. So I'm not sure I 100% belonged at Goodbye Yellow Brick Road…
Certainly not so much as the guy next to me who was about twenty three and wearing a weird blend of 90s emo and 60s Beatles hair with - of course - Elton glasses and an Elton t-shirt, so that he looked a bit Scott Pilgrim and a bit Invisibles. He told me he'd taken his girlfriend (utterly lovely, taking care of him, also more goth-aspected than I usually associate with Elton) to an Elton John concert on their first date, and now he was bringing her again.
"She needs to marry me, dun't she?" he said, and I laughed because I had absolutely no idea what to say to that. "Your emotional syllogism lacks a valid mechanism by which A follows from B"? "What are your prospects, young man?" Or maybe "You seem fairly high right now in a pharmaceutical sense as well as a purely topographic one and I'm a bit worried about your fatal attraction to the balcony. Also that you may ralph into my sashiko jacket."
I'm horrible at dealing with other humans without a warm-up, but most particularly when they're intoxicated and all their thinking is wibbly but they think it isn't.
She didn't seem to know what to say either, which made me feel better, and my general impression over time was that she was perfectly happy but wanted to leave and take his clothes off as soon as possible. If I'm completely honest I don't see a long future for them as a couple, but I'm really not an expert and maybe he has depths you don't get to experience in row K of the upper outer upper circle of the O2 Arena.
Anyway, Elton was amazing: briefly discursive, massively energetic, and above all a pro. He played what everyone wanted, glitter rained from the sky and we all felt that little bit more alive. Bonus: I did not get Covid.
I picked this up for no reason other than because I wanted to. I opened it on a train going somewhere - I don't remember where - and devoured it. Then I read it again. It's chilling, clever, elegant, trenchant, weird and alarming. P Djèlí Clark just went (belatedly, I know everyone else already knows this) on my ALWAYS READ list. Would love to see a TV show (although in general horror TV is too horror-ish for me, but this is different. The story and the characters are in charge, not the shocks.)
There is no hilarious story attached to this, it's just very good. I'm not going to synopsise etc because it's short and you can just get on with it.
Dancing at Lughnasa is on at the Oliver. Mrs H said: "We're going to Dancing at Lughnasa." I said "yes." Somehow these things always come as a surprise to me. And to be honest we're not people who go to shows and things a lot, it's just been that week.
I had a brief moment of free-associative confusion where I decided that this was Playboy of the Western World and was bemused by people talking about whether there'd be a lot of dancing. My rather distractible brain eventually circled back around to the 1990s and explained the situation to my conscious mind. Much better.
The vaporous experience of living in my head to one side: this show was stunning. Utterly, earth-shakingly stunning. Top shelf performances all around, bittersweet, sad and fragile, robust and raucous… I loved it, out of nowhere. Highly recommended.
Bonus: I did not get Covid AGAIN. Why do I keep pointing this out? Because the pandemic is still merrily puttering away and a lot of people are getting it and not having a great time.
Elsewhere, my alter ego weaponised a Roomba rather more effectively than he intended to.
I made the image a link. I have no idea whether Twitter and Substack are still poking each other with sticks and I don't want to know. Increasingly I just want things to do their thing and not tell me about it all the time.
Finally…AND MOST IMPORTANTLY…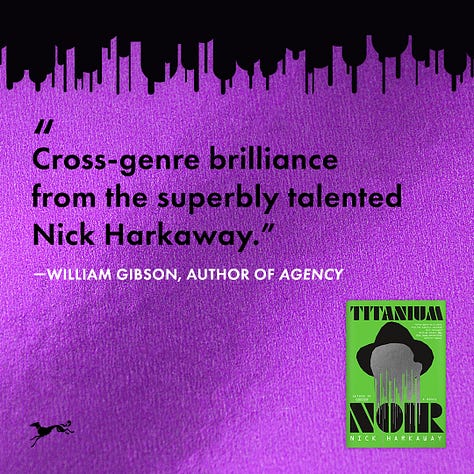 TITANIUM NOIR COUNTDOWN: the book comes out on May 16th in the US and May 18th in the UK, which means it's twenty two(or twenty four) days to publication… cross your fingers and please tell EVERYONE IN THE UNIVERSE. Thank you.
Free association, free of charge.